As we build and grow our SaaS products, we hit a spot where we go:
"I need to know what features my customers are using!"

"What improvement can I make in the product that will actually help me grow the business?"

"How can I improve the product experience?"
These are very valid and important questions. Building without knowing what to build is dangerous! We have to build something that our customers would want to use, after all.
This is where product analytics tools come in. You need a solid analytics tool that can integrate with your product and tell you how your users are interacting with your product so that you know what changes to make and what should be left untouched.
But, finding the right product analytics tool that would work well for you and your team can be a tedious task today. There are a large number of tools out there that help (or atleast, claim to help) with product analytics and it can become overwhelming very quickly.
In this article, we go into detail into the top product analytics tools out there that can help you grow your business without you having to do all the research and evaluation. We evaluate them based on criteria like:
The time it takes to set up the tool with your product
The costs of the tool
The ease of use and how quickly you can grasp the tool
The amount of customization the tool allows
The things that make the tool stand out from the rest
Here are the product analytics tools that we cover:
| | | | |
| --- | --- | --- | --- |
| Tool | Pros | Cons | Pricing |
| Amplitude | Lots of customization options, get complete visibility | High learning curve, can get pricey | Custom pricing, free plan available |
| Mixpanel | Customizable Dashboards, Automated email and push notifications | Takes time to figure out the right dashboards to create if you're not a data scientist | Starts at $25/mo, free plan available |
| Heap | Quick setup, top notch segmentation | Can't get complete control over charts | Custom pricing, free plan available |
| InnerTrends | Pre-built reports, team to do the set-up | Can't do hyper-customization, and get granular KPIs | Starts at $79/mo, free plan available |
| June | Templates to quickly start using | Needs Segment to collect data | Starts at $119/mo, free plan available |
| Pendo | Product roadmapping and onboarding tools, mobile app support | Set up can be a hassle, product analytics tool not the best | Custom pricing, free plan available |
| Google Analytics | Easy to use, seamless integration with other products | Can't do user-level tracking, has integrity issues with data | Free to start with, $150k/yr for GA 360 |
Let's dive right in and explore each of these tools in-depth:
1. Amplitude Analytics
Amplitude is a comprehensive and intelligent product analytics tool that will give you a lot of integration options and customizable dashboards to work with. They are the most feature-loaded tool out there, so you can be sure you'll find the right dashboard to track what you need for your business.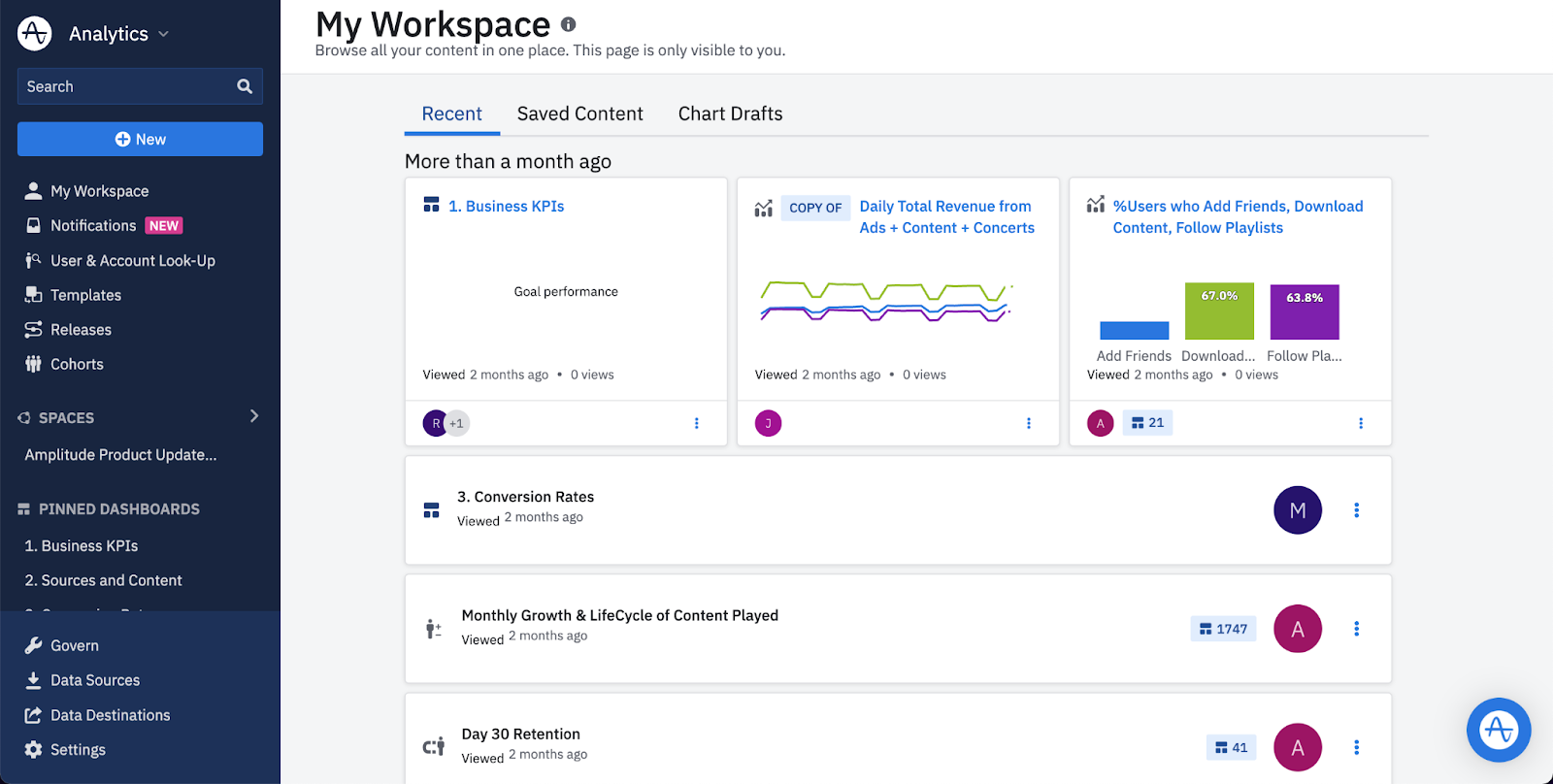 Try Amplitude if:
You need a powerful tool that has loads of customizable dashboards and real-time event streaming.
You need complete visibility of the user experience.
You have developer resources to ensure the setup is done well and the tracking is running perfectly.
Avoid Amplitude if:
You don't want to spend a lot of time finding and fine-tuning the right report for you. Amplitude has a fairly high learning curve overall and report customization takes time.
Same as with Mixpanel, the free plan is attractive but the bill can run high very quickly when upgrading to higher tiers.
2. Mixpanel
Mixpanel is one of the most known product analytics tools out there. You can use it to create customizable dashboards to track data in real time based on the metrics you want to measure. On top of that, you can even see the dashboards your team is working on, which makes team collaboration easy.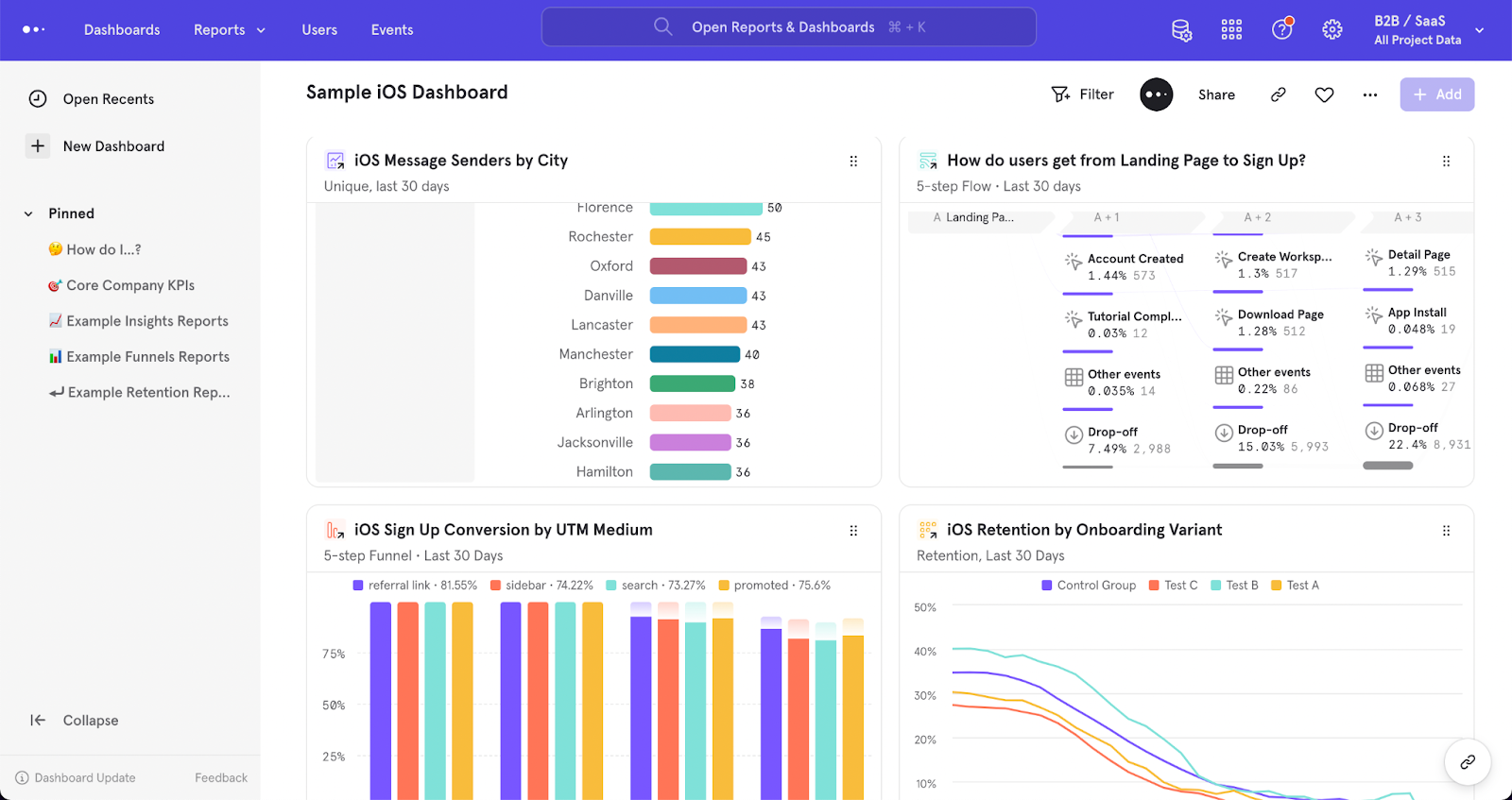 Try Mixpanel if:
You want to have a deep understanding of user engagement with your product, from funnels and retention drivers to impact of experiments.
You want customizable dashboards based on your KPIs for your web and mobile applications.
You can easily define custom Key Performance Indicators (KPIs).
You want to take advantage of tools like automated emails and push notifications to interact with your customers.
Avoid Mixpanel if:
You're not a data scientist (or don't have one to guide you), and don't want to spend a lot of time figuring out how to create the right dashboards or reports for your business.
Your needs expand beyond the free plan and you don't have the budget to support the higher tiers.
3. Heap
Heap is a powerful product analytics tool which is very easy to set up and use at the same time. It's used by 8000+ companies as of 2022. While it might look less compared to Amplitude and Mixpanel, it doesn't mean that they aren't a high quality product.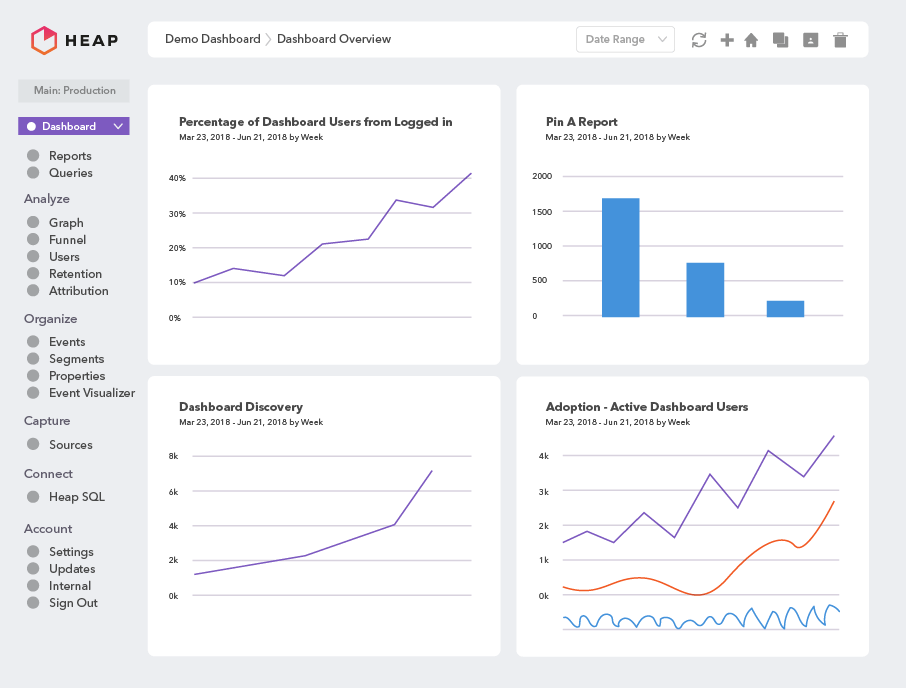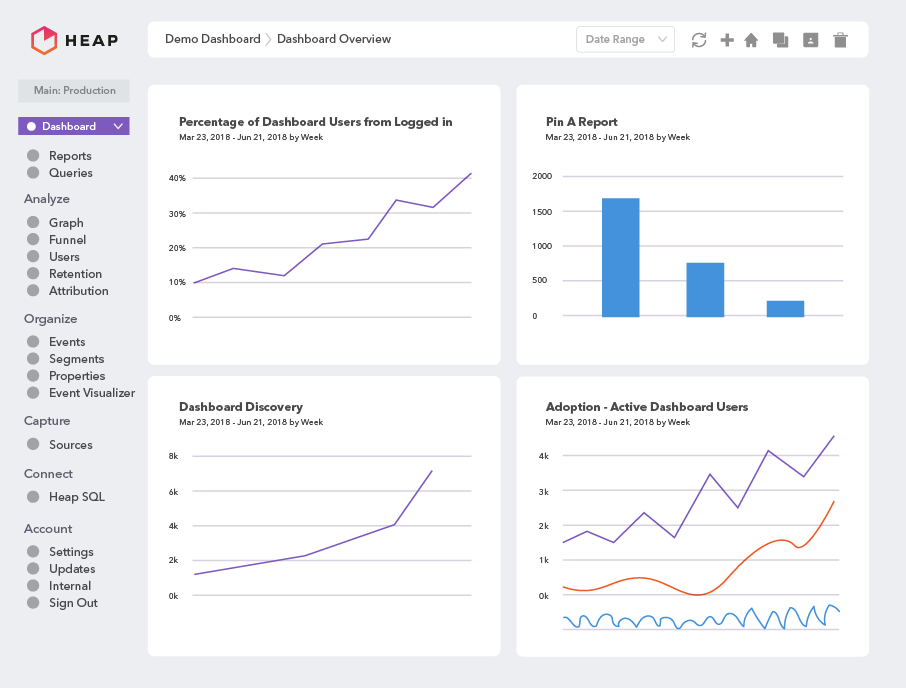 Like other products in this list, it also tracks events like button clicks, video plays, views, etc. Basically, everything which you need to understand how users are interacting with your product. A major plus point here is that you don't need to decide which events you want to track while setting up Heap. It automatically tracks everything!
Try Heap If:
You need an easy to use tool: While it can get a bit complicated sometimes if you need to track very specific events, Heap is one of the easiest tools out there. It has a pretty solid event visualizer which allows you to see the overall flow of events quickly.
You don't want to spend time and money on setup: With Heap, you simply need to drop a JavaScript snippet onto every page and you're good to go! No data lost, and no technical expertise needed.
You need top notch segmentation capabilities: Heap allows you to set super specific parameters and go really deep with its simple & powerful segmentations.
Avoid Heap If:
You want complete control over the charts and dashboards. Heap has pretty limited customizability in this regard, compared to other tools in this list.
You don't want to spend a lot of money on a product analytics tool: While Heap has a free plan, it only allows upto 10k monthly sessions. After that, it can get pricey really quickly. So if you're tight on funds, be a bit careful while using Heap.
You need to track activity across your mobile app: Since Heap works via a JavaScript snippet, it only tracks data for web and mobile web versions of the app. No support for mobile apps.
4. InnerTrends
InnerTrends is a great alternative to the classic analytics tools out there for two key reasons:
It comes with pre-built reports, giving you fast, actionable insights for your product, without getting bogged down with building extensive reports and dashboards. 
It offers guided set-up. Setting up a product analytics tool can be complicated, and if you don't have data analysts and dev resources you can tap into as a product manager, you may feel overwhelmed with this task.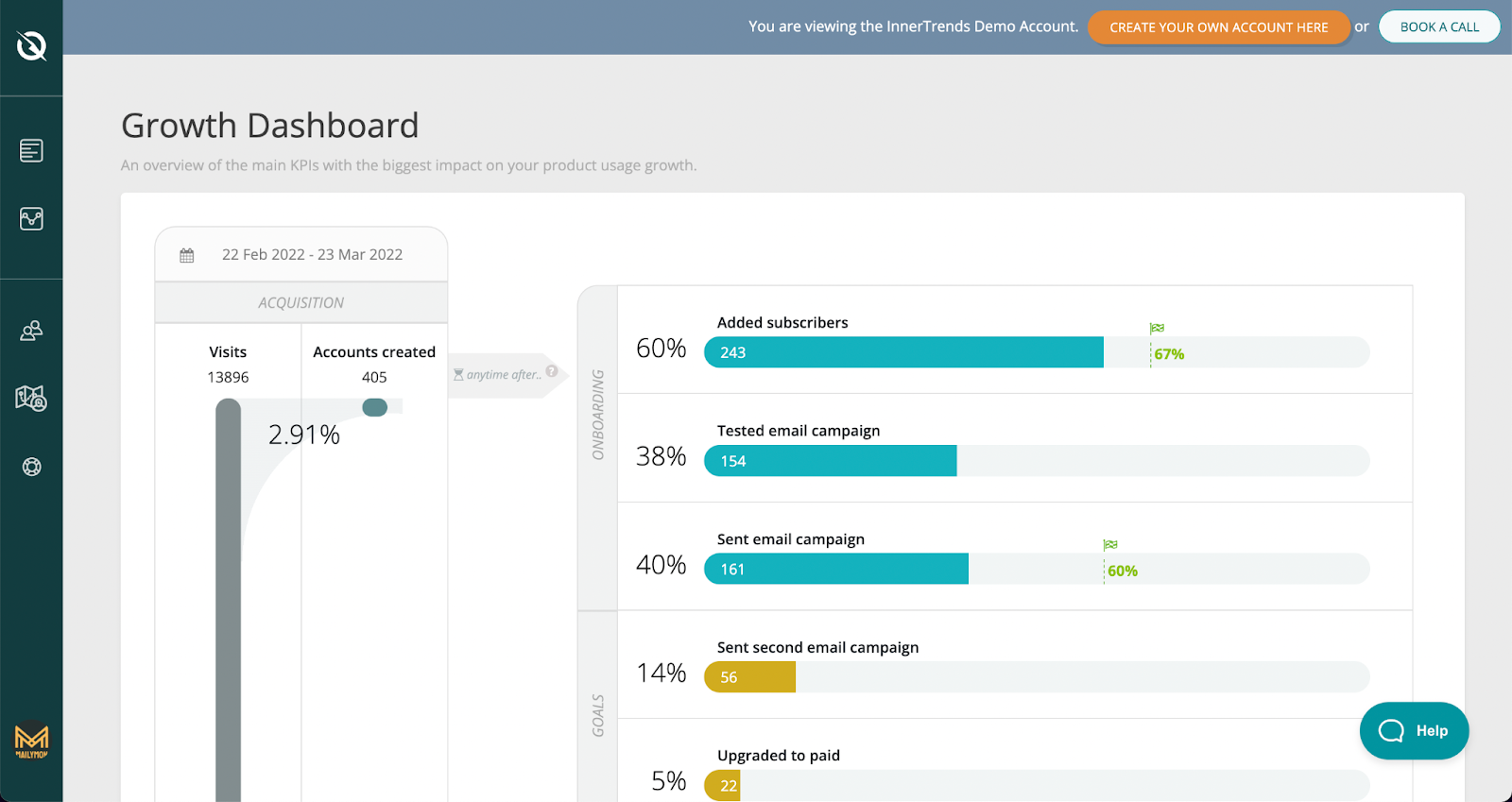 Try InnerTrends if:
You don't want to spend unnecessary time building or customizing reports. InnerTrends comes with all product analytics reports pre-built for you.
You're unsure about the data tracking setup and don't have the resources on your team or an agency to help you with this.
You have a B2B product and want to analyze things at an account-based level from day one, even on the free package.
You want actionable insights "spoon-fed" to you. Simply select a question in InnerTrends' "Insights" section and get recommendations on what you need to do to optimize your product.
Avoid InnerTrends if:
You are willing to invest the time in hyper-customizing your reports.
You are looking for super-granular KPIs and customizable dashboards for internal reporting.
5. June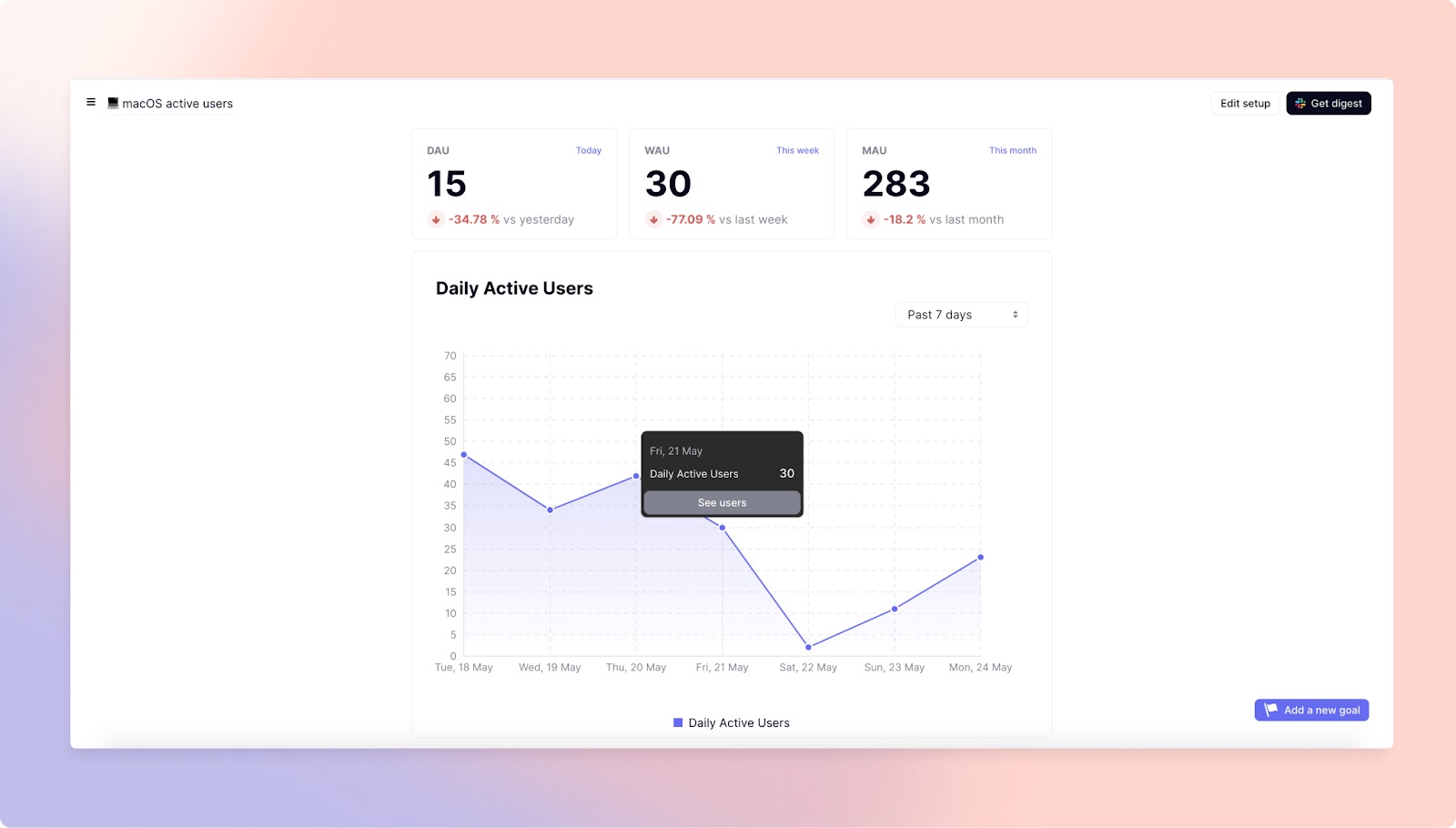 One of the newer players in the market, June is one of the simplest product analytics tools out there. They make it super easy to create clean dashboards, even for beginners and non-technical folks. If you're just getting started with product analytics and are using Segment to collect your data, June is a pretty solid bet.
Use June If:
You don't have a very advanced requirement: You can simply pick from its 15+ templates and start building reports to get insights on your users.
You use Segment to collect your data: June gets its data from Segment, which is a pretty popular data collection tool by Twilio. June connects with Segment and gets you up and running within no time.
Avoid June if:
You don't use Segment: June simply won't work if there is no data to import. And it currently does that only via Segment.
You're looking for a comprehensive product analytics tool that can get you all types of user data: June, while effective at giving you the most important metrics, still leaves a lot to be desired if you're an advanced user and need full control over your data.
6. Pendo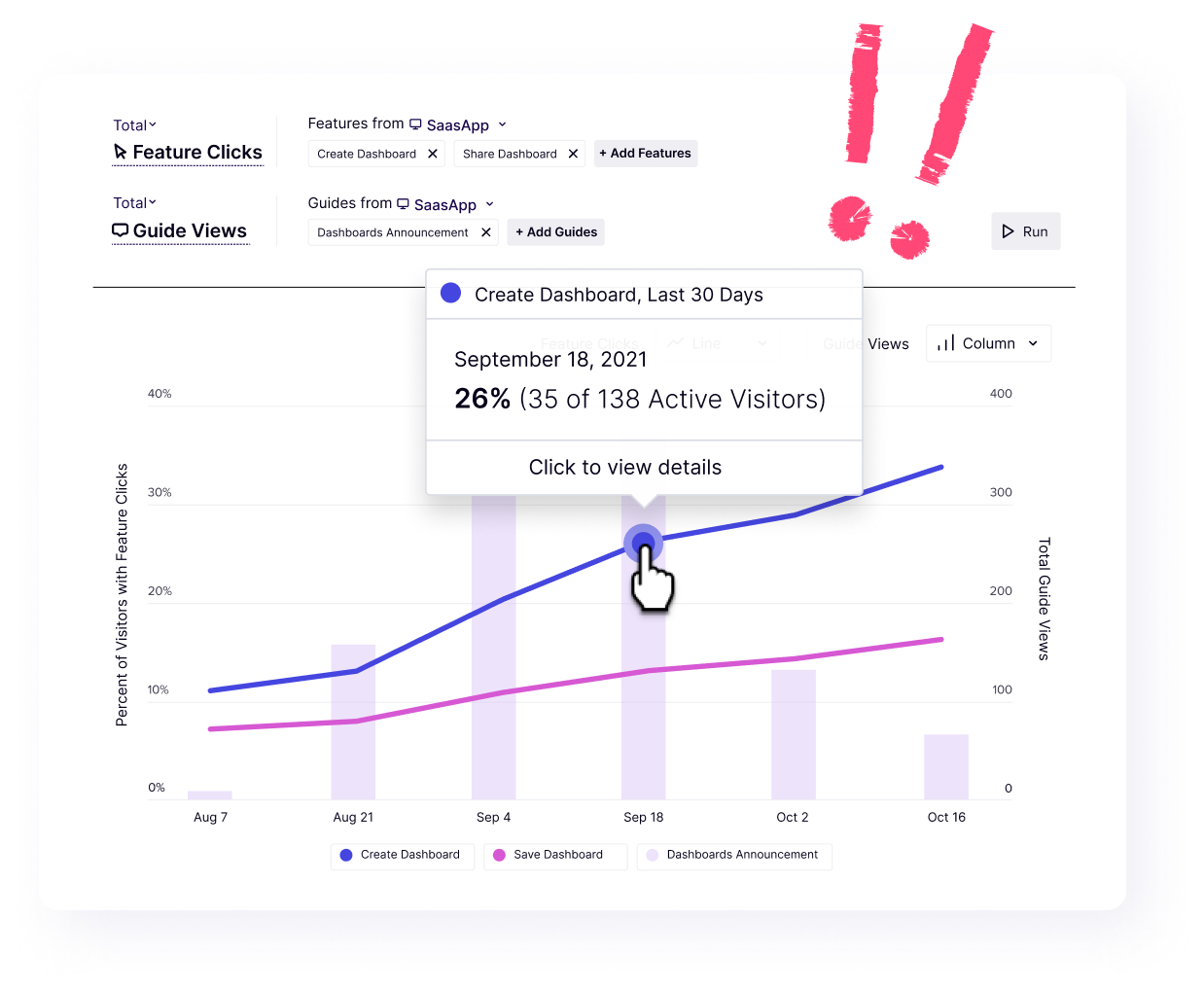 Pendo is an all-in-tool that allows you to work with both your customers, and your employees. You can improve your customer's experience via analytics and in-app onboarding messages. But on top of that, you can also improve your team's performance via feedback collection and product roadmapping.
While the product analytics capabilities aren't as powerful as some of the other tools in this list, you're getting a comprehensive solution for product management workflows and planning with Pendo.
Try Pendo If:
You're looking for a product roadmapping and onboarding tool as well: Pendo is more than a product analytics tool, and your product team can use it across the board.
You don't need to go very deep into product analytics: While it's still pretty good, Pendo's product analytics tool pales in comparison to InnerTrends, Mixpanel and Amplitude.
You need a tool for your mobile app: Pendo for Mobile helps you analyse user behavior on mobile apps as well. Something which a lot of other tools in this list don't do.
Avoid Pendo If:
You need a robust product analytics solution: There are other tools in this list which allow you to see much more attributes of a user journey. Avoid Pendo if you're looking to go deep into analysing your user journey.
You need to set up a tool quickly and effortlessly: Since Pendo works with multiple aspects of your product, it takes significant time and effort to set it up and get going.
You're looking for a smooth UX: Depending on how many features of Pendo you use, the UX can get clunky compared to a few other tools in this list.
7. Google Analytics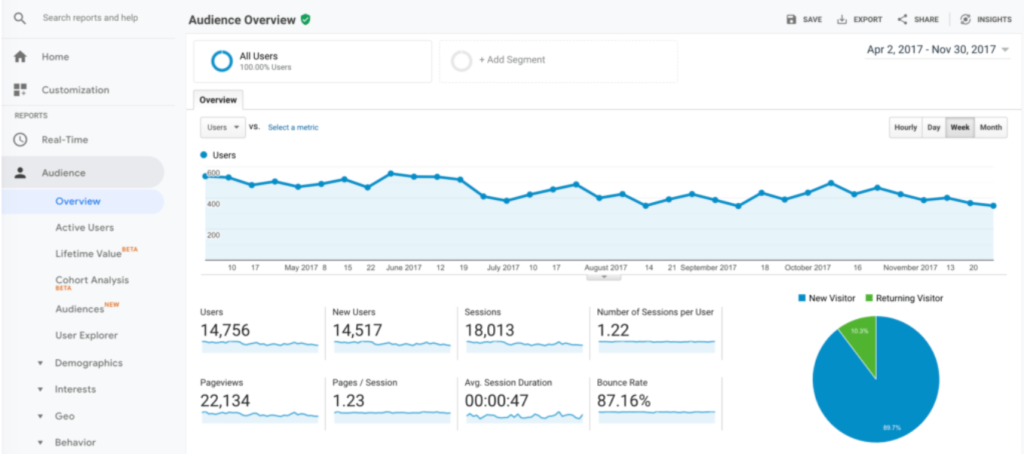 One of the first product analytics tools to come out, Google Analytics remains the default analytics tool for most companies out there. And rightfully so, since it has continued to improve and evolve over time.
Another reason why GA remains the default tool is because it's free for most users. You can start analyzing user behavior on your website & apps and get pretty far with just the free version. Only once you're ready to move to the next level do you upgrade to their (fairly pricey) paid plan, ie GA 360.
Try Google Analytics If:
You're looking for an easy to use solution to track acquisitions: Things like from which channel your users are coming from. GA pretty much excels at this task.
You want to use a tool primarily for marketing: While GA's event-based tracking gives it the ability to track user behavior across products, it's still a tool primarily used by marketers for tracking website activity.
You need a tool which seamlessly integrates with other products you're using: Since GA is one of the most popular tools out there, it can integrate with a wide range of tools without any issues.
Avoid Google Analytics If:
You need individual user level tracking: GA, while powerful, is still limited in its ability to drill down to individual user activity. It doesn't allow you to dig deep and see how a user behaves on a particular page and why it's working/not working.
You need accurate data: GA uses cookies to collect its data. Hence, they have a short lifespan which can be blocked very easily by users visiting the websites and apps. This can give inaccurate data and cause other integrity issues.
You need an advanced product analytics tool: GA gives you a limited number of product custom events and tracking capabilities on the free plan. You need to upgrade to Google Analytics 360 (which starts at $150k per year) if you want to get more powerful tracking.
Conclusion
Setting up a product analytics tool requires time commitment. Making the right changes in your product based on the reports generated takes even more time. So you want to ensure that you spend time researching the right tool for you, based on your team bandwidth, your product goals and the metrics you want to measure.
Once you're clear on the above, choose the right product analytics tool based on your budget and give it a shot. Of course, you'll have to spend time with the product to get confidence on whether it's the right one for you, but the pros and cons mentioned in this article can make things much easier for you.
If you're looking to get started fast and get actionable data without spending much time figuring out how to set things up, I'd recommend giving InnerTrends a shot. You can take a tour and start using the product right away!