Customer and User Research Tools for Product Managers
As a product manager, your job is to lead your product from conception to completion, and finally, to constant optimization. This includes setting the product strategy, creating and sharing plans, gathering product insights, tracking the backlog, reviewing the product roadmap and much more.
You're expected to understand customer needs and user behavior – some of these, before you've even launched your alpha or beta version.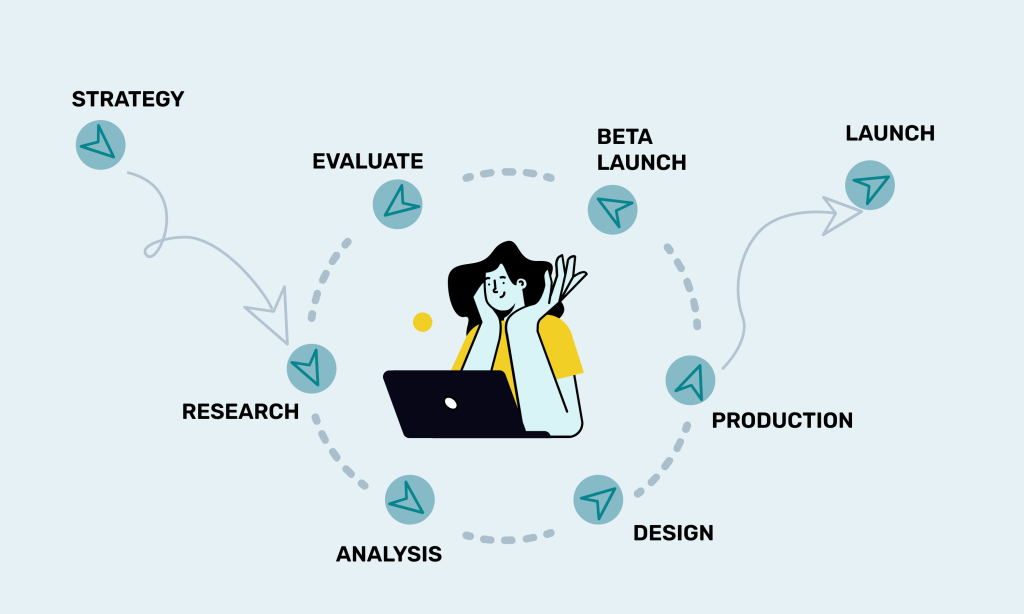 Luckily, there are many tools that can support your efforts to understand your users and customers. They can help you make informed decisions as to how to improve your product to meet customer's needs.
But if you do a simple Google search, you'll be pretty overwhelmed with categories and subcategories of tools. So we thought we'd simplify things a bit, and categorize user research tools loosely into these buckets:
Surveys & Interviews (respondent needs to interact with you or your forms)
User testing (kind of like big brother observing)
Other
Even so, there will be many overlaps with tools touching more than one category, so ultimately you need to make your own decisions based on your current stack and requirements.
Here are our suggestions, with a list of customer and user research tools for you to choose from for your "must have" toolkit. And a bonus "other" category with something different from what you'd probably expect.
Survey & interview tools
1. SurveyMonkey
If you're looking for a cloud-based survey tool where you can create, send, and analyze surveys, quizzes, and polls for any audience, SurveyMonkey is the tool for you.
With SurveyMonkey, you can:
Collect feedback via weblink, email, mobile chat, social media, and more.
Automatically analyze results and explore a number of analysis features.
Learn about it here: https://www.surveymonkey.com/
2. Typeform
Typeform is a web-based platform that transforms collecting and sharing information into a comfortable and conversational experience. You can create a variety of forms from surveys to apps, with no coding experience required.
How Typeform works:
Asking one question at a time keeps your audience focused and engaged. You'll see thoughtful responses and higher completion rates.
Built-in photo and video libraries integrated with custom layouts and themes, showcasing your brand.
Ask the right follow-up questions with conditional logic, making surveys feel like conversations.
Learn about it here: https://www.typeform.com/
3. 123FormBuilder
123 Form Builder is a versatile and innovative form builder used by over 2 million individuals and businesses around the world to automate data collection processes and workflows.
While they started out as a form builder, they now offer several solutions, including survey, poll and quiz tools.
Here's how it works: the drag and drop interface allows you to easily create forms, surveys, polls, and quizzes, all without ever having to write a single line of code. Just add the fields, set up the custom email notifications, and distribute the form… That's it!
123 Form Builder integrates with more tools than any other online form builder, too. That means no more time spent exporting, importing, and manually entering data! Simply select the app or payment gateway you want, and integrate instantly.
Learn about it here: https://www.123formbuilder.com/
4. Google Forms
Google Forms assists you in the creation of custom forms for surveys and questionnaires at zero cost. Yes, it's absolutely free.
With Google Forms, you can:
Add collaborators to build questions together in real-time.
Set response validation rules.
Share forms with specific individuals or a larger audience by embedding forms on your website or sharing links.
Learn about it here: https://workspace.google.com/intl/en_ie/products/forms/?utm_source=google .
5. SurveySparrow
SurveySparrow is an online survey platform that turns general surveys into casual conversations.
SurveySparrow offers:
A variety of question types and features for your choosing.
Create and share personalized surveys for users.
A centralized dashboard where you can import contacts and organize them in custom lists based on job titles, location, and age groups.
Learn about it here: https://surveysparrow.com/
6. Zoho Survey
Zoho Survey helps you create a fully customized theme for your brand as well as survey forms in a matter of minutes.
Zoho Survey offers:
Survey builder in seven languages: German, English, French, Indonesian, Japanese, Dutch, Portuguese, Spanish, Chinese (Simplified).
Variety of question types from drag-and-drop to using skip logic and scoring.

Learn about it here: https://go.marketsplash.com/zoho/survey/
7. SurveyLegend
SurveyLegend is the future of form building, giving users the ability to create surveys through drag-and-drop.
SurveyLegend offers:
Creation of easy-to-use unlimited forms.
Compatibility with mobile devices.
Learn about it here: https://www.surveylegend.com/
8. Zonka Feedback
Zonka Feedback helps you gather, measure, and analyze customer satisfaction as a multichannel customer feedback and survey platform with CSAT, CES and NPS surveys.
Zonka Feedback offers:
25+ question types.
Offline, email, and website surveys.
Website, product, and employee surveys and feedback forms.
Learn about it here: https://www.zonkafeedback.com/
9. JotForm Survey
Jotform enables you to create engaging online surveys with their free drag-and-drop survey maker to gather feedback and conduct product development research.
With Jotform, you can:
Personalize questions, use conditional logic, and share your custom survey online for instant response collection.
Choose from 280+ customizable survey templates where you can adjust the fonts and colors to match your branding.
Learn about it here: https://www.jotform.com/surveys/
10. Survey Anyplace
Survey Anyplace is a software platform where you can create personalized online questionnaires and generate personalized reports automatically.
Survey Anyplace can help you:
Ask relevant questions of your users that help them learn more about your product along the way.
Take their answers and generate a useful result for respondents, be it a category, maturity level, or personality type.
Give respondents personalized advice given their responses in the form of email or via an automatically generated PDF report.
Learn about it here: https://surveyanyplace.com/
11. Survey Nuts


Survey Nuts is an easy-to-use survey builder where you can create forms to collect data or build sophisticated and interactive quizzes.
Survey Nuts offers:
Design surveys and questionnaires using various question types.
Easy posting of your survey URL on social media, website, or via email to collect respondents' answers.
A real-time reporting dashboard displaying results and statistics with simple charts or through data export.
Learn about it here: http://surveynuts.com/
12. Survey Planet
SurveyPlanet offers a variety of free tools for survey design, easy online sharing, and review of survey results.
With SurveyPlanet, you can:
Choose from ten colorful survey themes (Pro users can build customized survey themes by choosing colors, fonts and background images).
Review your survey in preview mode to see how it looks on different devices.
Utilize hundreds of pre-written question templates, available for use as-is or edit and combine them with personalized questions to create new surveys.
Learn about it here: https://surveyplanet.com/
13. Survs
Survs is a collaborative platform where you can create professional surveys with the help of your team, and collect useful feedback from respondents.
With Survs, you can:
Design questionnaires with a simple interface, beautiful themes, and flexible options.
Collect user responses via link, email, social networks, or directly from your website.
Gather results in real-time, segment data using powerful filters, and export your data to Excel, CSV, or SPSS.
Learn about it here: http://survs.com/
14. Survey Gizmo (Alchemer)
Alchemer offers a leading survey software beneficial to individuals, teams, and organizations.
Alchemer can help:
Market researchers to better understand their markets so they can find their best customers.
Sales operations understand and engage with prospects so they can get more of their best customers.
Customer success and customer experience connect and respond so they can keep more of their best customers.

Learn about it here: http://www.surveygizmo.com/

15. Survicate
Survicate is a survey, NPS and feedback management software that helps businesses capture more customer feedback and deliver a better customer experience. Survicate offers:
Website, web app and in-product (in-app) surveys.
Email and link surveys.
Mobile app surveys for Android and iOS.
Survicate also offers two standalone products:
Feedback Hub for managing customer feedback from multiple sources in one place.
Feedback Button for collecting quick website feedback with an always-visible website button.
Learn about it here: https://survicate.com/
16. RightMessage
RightMessage makes it easy to capture more sales without driving more traffic by speaking directly to the person reading your website. It looks at data you store about visitors in your email marketing app, where they came from, what ad they clicked, what pages they've viewed, and what kind of content they're reading to try to determine who they are so that you can tailor your messaging to focus on them and their needs.
Learn about it here: https://rightmessage.com/?fp_ref=lucas31
17. UserZoom
UserZoom uses video-based interviewing to discover new opportunities across the user journey to validate designs at scale with behavioral and attitudinal data from click tests, card sorts, tree tests, and surveys.
UserZoom's research experts meet you where you are to provide UX training designed to meet team's your goals and roles.
Learn about it here: https://www.userzoom.com/
18. UserVoice
UserVoice is a centralized product feedback tool that helps you gather, aggregate, analyze, and act on feedback from customers and internal teams.
With UserVoice, you can:
Capture, track, and organize feedback from customers with a system built to scale with you.
Aggregate multiple sources of feedback all in one place for a better overall view of what your users want.
Learn about it here: https://www.uservoice.com/
19. Qualtrics
Qualtrics allows you to analyze surveys, questionnaires, and other forms of customer information using conversational analytics.
With Qualtrics, you can:
Gather all experience data from customers and employees and store in a single system of record for every interaction across the organization.
Use predictive analytics to understand what your customers want, while the system offers recommendations for next actions to take.
Build customizable workflows that automatically alert the right people and trigger actions in every part of the organization.
Learn about it here: https://www.qualtrics.com/
User experience tools
20. Hotjar
Hotjar uses product experience insights and behavioral analytics to help you better understand how users behave on your site, what they need, and how they feel.
Hotjar can help all members of your team:
Product managers can see how users interact with your product and make data-informed decisions as to what changes need to be made accordingly.
Product designers can build features for your product while discovering what features are working, what features aren't working, and why.
Researchers can develop a deeper understanding of your product's users by mapping the customer journey to analyze patterns and trends.
Learn about it here: https://www.hotjar.com/
21. Ethnio
Ethnio offers participant recruiting and management to access the users and details that matter most. It helps you build a screener that you can use as a web intercept, link, or native app intercept, and then automatically schedule and pay participants.
With Ethnio, you can:
Manage the entire workflow of your research, starting with highly targeted screeners.
Find participants that really care about your product, or post a link on Craigslist, Twitter, Facebook, and allow Ethnio to automatically screen, text, schedule, and pay participants.
Learn about it here: https://ethn.io/
22. Lookback
Lookback offers recording of mobile app sessions for recruited testers or users that want to record feedback while using your app. You'll see the screen, face, voice, and touches of your users through in-house or remote recording.
With Lookback, you can:
Conduct different types of research within the same project, whether you start with unmoderated and switch over to moderated, or vice versa.
Get real-time access to the customer voice to build the products customers need and love.
Allow everyone on your team to capture and surface insights.
Learn about it here: https://lookback.io/
23. User Testing
UserTesting lets you hear what your audience is saying and understand what they want through a set of customer experience solutions for designers, product managers, marketers, and executives.
With UserTesting, you can:
Observe users' facial expressions and body language,
See visuals of their experience,
Hear their tone of voice and intonation,
Learn from their digital and real world interactions.
Learn about it here: https://www.usertesting.com/
24. Sprig
Sprig uses research insights to help you target users based on who they are or what they do in your product for fast and relevant results every time.
With Sprig, you can:
Evaluate existing product experiences by continuously gathering insights as your users interact with your product.
You can ask questions of your users in-product, triggered by email, or embedded within existing user journeys.
Test new product features and develop designs based on feedback from users.
Recruit users from your exact target audience based on certain characteristics and actions.
Learn about it here: https://sprig.com/index.php
25. Apptentive
Using Apptentive's unique and powerful Voice of the Customer solution, you can capture user feedback across your mobile customer's journey and win back customers immediately.
You can:
Gather feedback in real time, tracking the voice of your customer to evaluate shifts in emotion.
Learn the "why" behind your feedback.
Utilize feedback to increase retention and make customer-driven decisions.
Learn about it here: https://www.apptentive.com/
26. Contentsquare
Contentsquare explores customer insights for your entire team, from marketers to product managers to IT. By connecting metrics to actual customer behavior, Contentsquare combines valuable data, machine and human intelligence to deliver optimal outcomes. Mostly focused on eCommerce.
With Contentsquare, you can:
Say goodbye to manual work: no more tagging different zones on your page.
Powerful yet intuitive heatmaps measure clicks, scroll-depth, engagement, and much more.
Visual analysis capabilities make it easy to pinpoint friction in your user journeys.
Learn about it here: https://contentsquare.com/clicktale/
27. FullStory
FullStory is a digital experience intelligence platform that offers on-the-fly conversion funnels, advanced search capabilities, video replay of user sessions, and useful developer tools, while integrating with leading SaaS products.
With Fullstory, everyone wins:
Product managers can see how customers interact with your online business, using actionable insights designed to drive growth.
Cross-functional CX teams from Engineering to Customer Success are empowered with digital experience data, cutting time to resolution and boosting customer satisfaction.
Marketers can see which investments are making the greatest impact.
Find more about it here: https://www.fullstory.com/
28. Helio
Helio is a cost-effective research tool that can help you test prototypes, screens, and design ideas with ease and learn from your users in minutes.
You'll be able to create feedback loops, make data-informed decisions quickly, and validate product concepts to get a clear understanding of your customers' experiences before investing time into engineering or design.
Learn about it here: https://helio.app/
29. SessionStack
SessionStack helps you and your product team create the best possible digital experience for your customers with session replays amongst other features. Small and large product teams can leverage SessionStack's solution to back their decisions with hard user data.
From product analytics solutions, to error tracking tools and helpdesk platforms, SessionStack smoothly integrates with your favorite tools to help you start reaping the benefits at once.
Learn about it here: https://www.sessionstack.com/

30. Usabilla
GetFeedback's customer experience (CX) platform (the leading relational and transactional surveying tool for the Salesforce ecosystem) combines with the best of Usabilla's digital feedback and analysis for websites and apps.
Usabilla helps you get programs up and running that deliver exceptional experiences based on customer feedback collected across the entire customer journey.
Learn about it here: https://usabilla.com/
31. UXCam
UXCam helps companies identify usability issues on their mobile applications using app experience analytics to make informed product decisions by understanding user behavior.
With UXCam, you can utilize:
Session replay analytics,
Heatmap analytics,
User analytics,
Funnel analytics, and more.
Learn about it here: https://uxcam.com/
Other customer research tools
We've added this "other" category, which includes some cool tools that support your user and customer research efforts, but are different from anything mentioned above.
32. Avrio
Avrio is a newly launched collaborative insights platform built into your workflow where you can capture insights found through quantitative and qualitative research, provide context for data-informed decisions, and share the findings of your collective research.
With Avrio, you can:
Upload, transcribe, and analyze user interviews.
Create shareable highlight clips directly from the transcripts.
Capture data from around the web with the Avrio Chrome extension.
Centralize your feedback with our Zapier Integration.
Update your team and save knowledge with our Slack integration.
Promote your findings with a research library, website pins, and more.
Learn about it here: https://www.avrio.com/avrio-for#product-managers
33. Wynter
Wynter is a self-serve B2B messaging and buyer intelligence platform that lets you launch a test in minutes.
It's a great and fast way to discover what people in your target market think and how your messaging is resonating with them. With Wynter, you can:
Conduct message testing for website, ad, and email copy.
Test with verified B2B audiences: target by job title and industry.
Get qualitative insights on what your prospects think about you.
Learn about it here: https://wynter.com/
Final thoughts
It's important to note that while qualitative and quantitative customer research through interviews, surveys, session replays or heat maps are extremely helpful, a powerful product analytics tool can give you a much deeper, comprehensive and objective understanding of your customer's interactions with your product along every stage of the customer journey. Especially when you have more than a few hundred accounts and you need to move faster with data analysis.
Don't get us wrong, qualitative customer and user research will always have its role, but going past your early stage growth, it's best to start coupling it with other ways of diving into the data.
Product analytics also goes further into the analysis and provides insights, correlations, impact of actions and behaviors in a way that customer and user research simply cannot offer.
InnerTrends helps product teams know which changes to make to their app and grow faster with insights from pre-built analytics reports.
Register for our weekly workshop and find out how InnerTrends can help you discover how users interact with your product, and understand the impact of your initiatives across the customer journey.